UPDATE AS AT OCT 23, 2012
This Christmas 2012 tour is advertised in the Straits Times, Saturday and in the webpage of
www.designtravelpl.com
26 Dec 2012. Arrive Yangon. Our English-speaking guide will meet you at the Yangon airport.
27 Dec Yangon -Bagan(domestic air flight)
28 Dec Bagan - Mt Popa- Bagan
29 Dec Bagan - Heho - Inle (domestic air flight)
30 Dec Inle- Heho- Yangon (domestic air flight)
31 Dec Yangon- Departure to Singapore
The tour price will be
1099 USD/pax
(based on 2 pax)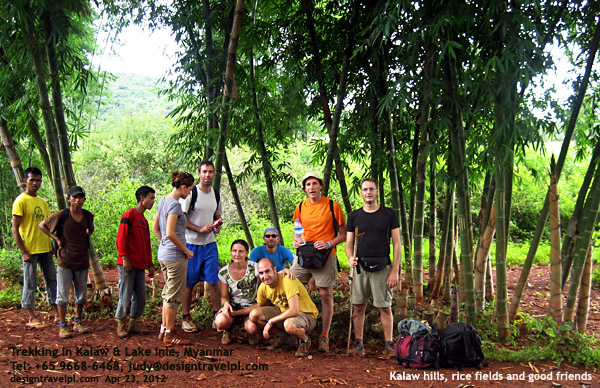 TREKKING UP AND DOWN HILLS NEAR INLE LAKE CAN BE ARRANGED FOR THE INTERESTED PARTIES AND ADVENTURERS
Hotel used
3-star hotel used
Inclusion
- All hotel accommodation with breakfast.
- All transfer and sightseeing with private A/C Car.
- Domestic flight fare
- Entrance fee and Zone fee.
- English Station Guide.
- Boat fee in Inle
- Government tax and our service charges.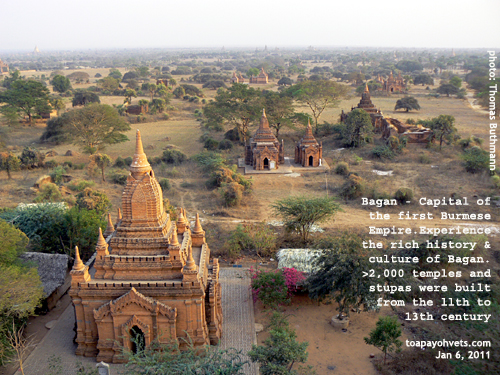 HISTORY OF KINGS AND EMPIRES COMES ALIVE IN BAGAN'S TEMPLES & PAGODAS
Exclusion
- International Air Fares and International Airport Tax
- Meals
- Personal expenses
- Soft drinks and alcoholic drinks
- Camera and Video fees
- Porter fees
- Other services not mentioned herein
- Visa applied in Singapore
For your information, there is a Compulsory Christmas Eve Dinner at all the hotels.
PYIN OO LWIN -
NOT PART OF THIS TOUR
. ANOTHER TIME. IT IS A COOL HILL RESORT FORE TRHE EX-BRITISH MILITARY OFFICERS WHO ESCAPE THE HOT SEASON BY HOLIDAYING IN THIS TOWN. A GARRISON TOWN, BEAUTIFUL GARDENS AND FLOWERS
As Myanmar has not been fully developed as compared to Australia and Europe, there are many interesting places to sight-see and many scenes for memorable and fun photographers. Try and visit Yangon and Mandalay in the next few months before it becomes urbanised due to large investment flows from foreigners.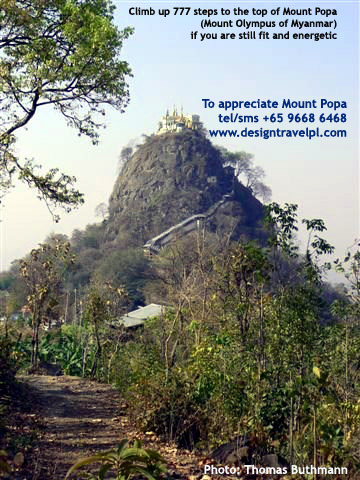 MOUNT POPA IS THE MOST FAMOUS MOUNTAIN OF THE GODS (SPIRITS) EQUIVALENT TO THE MOUNT OLYMPUS OF THE GREEKS. THE LOCALS BELIEVE IN THE PRESENCE OF THE SPIRITS (CALLED NATS) AND CLIMB UP THIS MOUNTAIN TO PRAY.
AN OVERNIGHT STAY IN MOUNT POPA AND TO VIEW THE SUNRISE IS NOT PART OF THIS TOUR AS THERE IS NO TIME TO DO IT. ANOTHER TIME
.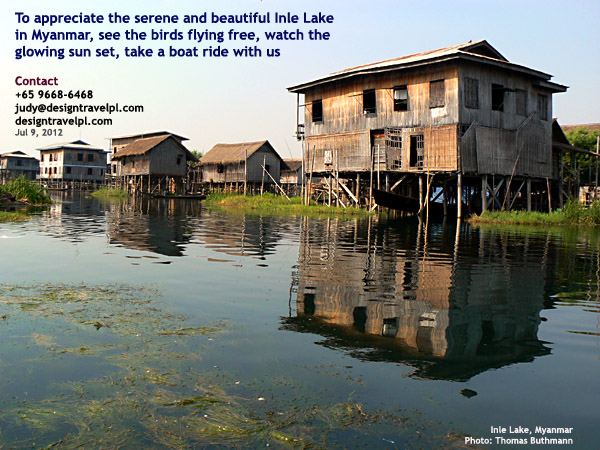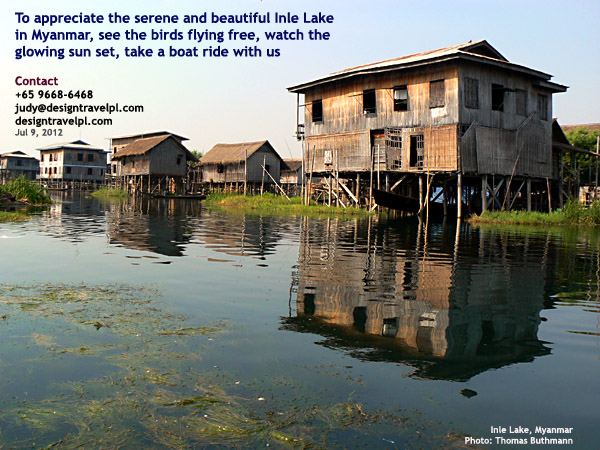 INLE LAKE'S FAMOUS FLOATING FARMS AND HOUSES
ANY READER INTERESTED IN THIS TOUR
Tel 9668 6468 or email
judy@designtravelpl.com
if interested. As December is the peak tourist season, please book as early as October/November 2012.
MESSAGE FROM DR SING KONG YUEN, FOUNDER OF DESIGN TRAVEL PTE LTD
Yesterday, Oct 10, 2012, a prospective client asked whether I have any brochures about Myanmar. Nowadays, the internet has more images and videos of Myanmar than any travel agent.
Myanmar is a very beautiful peaceful country with old colonial buildings still existing in their origin architectural form unlike other cities like Singapore where such heritage buildings have been re-modelled.
Visit downtown Yangon and see these buildings before they get demolished by foreign investors and developers. The buildings used to house government officials but since the new capital Naypyidaw is built, such British colonial buildings are vacated and will soon be gone.
Property prices in Yangon have shot up by as much as 5X due to intensive development and purchases by cash-rich jade sellers and foreigners buying and building condos and hotels.
For those who love history and appreciate the cultures of multi-ethnic communities, go to Myanmar now before the investors knock off the impressive historical downtown colonial buildings to build hotels and condos as in Singapore.
Yangon has many interesting residents. The picture below shows student nurses in Yangon. I thought they were student teachers. Teachers wear dark green skirts. Singapore teachers are not required to wear uniforms unlike Yangon's teachers.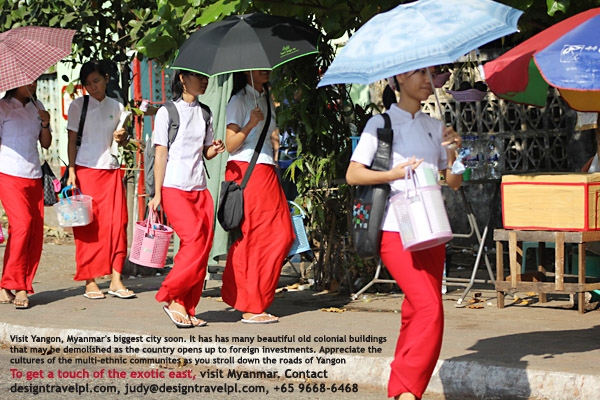 YANGON DOWNTOWN - STUDENT NURSES
Lake Inle in the Shan State has more interesting scenes and places for digital photographers as illustrated in the picture taken by me. Spend at least 2 nights in Lake Inle as this popular tourist spot is very serene to city dwellers who live hectic lives and seldom sees the sunset. Lake Inle by boat tour at around 5-6 pm will enable you to appreciate the golden setting sun and the whispers of the birds flying home.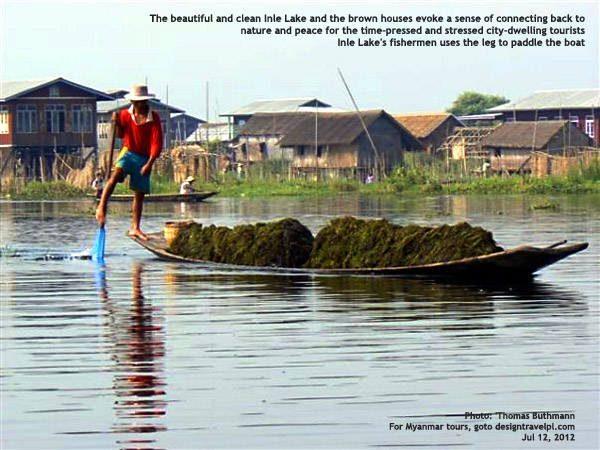 INLE LAKE'S FAMOUS LEG-PADDLING FISHERMAN. THE LADIES DON'T PADDLE THIS WAY
For amateur photographers, Myanmar provides lots of interesting street photography. Tip: You may have a theme to practise your photography. You may need a zooms lens. I have this theme of taking pictures of flower sellers in the markets of the towns I travel to in Myanmar and the following is one of them.
INLE LAKE'S FLOWER SELLER AND MARKET AT 7 AM WHEN YOU LEAVE INLE LAKE ON A MORNING FLIGHT BACK TO YANGON
From Bagan to Mount Popa, the tour guide may show you the local farmers and their cattle and way of living as in this picture below: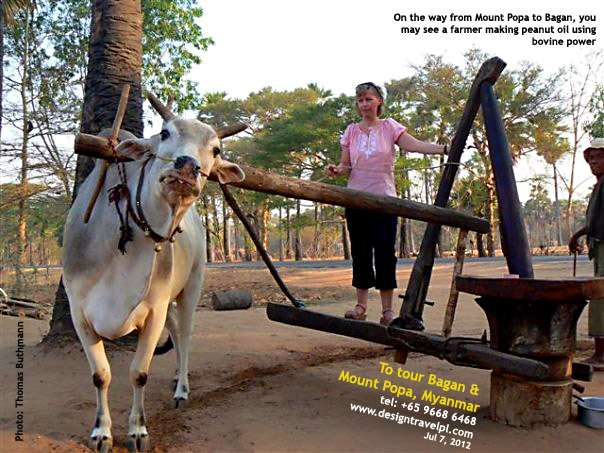 SERENE COUNTRYSIDE WITH PALM TREES AND FARMS YOU WILL SEE FROM BAGAN TO MOUNT POPA
For urban residents like Singaporeans, such scenes are no longer present, although some 70 years ago, there were bullock carts to transport people. Some 60 years ago, there were pigs roaming fee in Redhill but now Singapore's problem is to cull the wild boars in the Pierce Reservoir and Thomson Road areas!