Please check whether the following quotation as at Oct 20, 2012 is OK and let me know. The administrative charge of US$100 is payable in addition to the quotation. Best wishes.


9 Nov, Arrival Yangon
10 Nov, Yangon - Bagan ( flight)
11 Nov, Bagan
12 Nov, Bagan - Heho - Inle ( flight )
13 Nov, Inle
14 Nov, Inle
15 Nov, Inle_
16 Nov, Inle - Heho - Yangon ( flight )
17 Nov, Yangon
18 Nov, Yangon

Flight fare
Yangon - Bagan = 128 USD/pax
Bagan - Heho = 90 USD/pax
Heho - Yangon = 128 USD/pax

Hotel price
Bagan - Kumudara Hotel ( Superior)
- 45 USD/room/night
- Thiripyitsaya Sanctuary Resort ( Superior) - 100 USD/room/night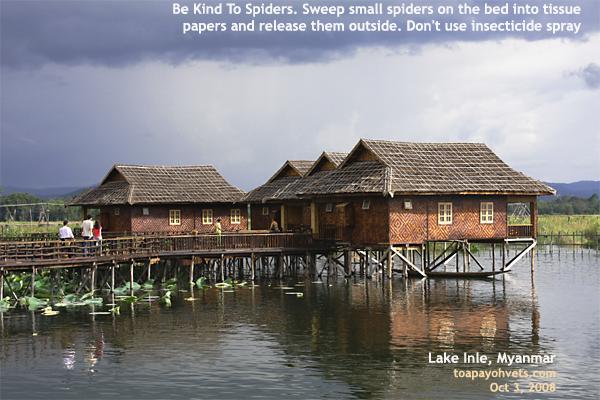 Inle - Golden Island Cottage ( Superior) - 80 USD/room/night
PICTURE OF GOLDEN ISLAND COTTAGE VILLAS. TRANQUIL AND BACK TO NATURE FEELING FOR CITY FOLKS LIKE ME. SPIDERS ARE PART OF NATURE OF INLE LAKE, BUT SOME SINGAPOREAN LADIES JUST HAVE A PHOBIA OF SPIDERS.
On Sat, Oct 20, 2012 at 11:51 AM, ..
ian.com>
wrote:
Thanks, so its two different hotels in bagan? What about the night we arrive in yangon?

Thanks

S
EMAIL REPLY DATED OCT 23, 2012
Thank you for your reply. Regarding the night you arrive in Yangon, l was under the impression you have booked your hotel.
If not, please let me know. Please review the itinerary again as regards hotels and give me your itinerary plan so that we can finalise it. For example, if you want to stay in the same hotel, let us know as Bagan is in great demand by European tourists. Once you let me know your itinerary and accommodation, we will finalise it as time is short.